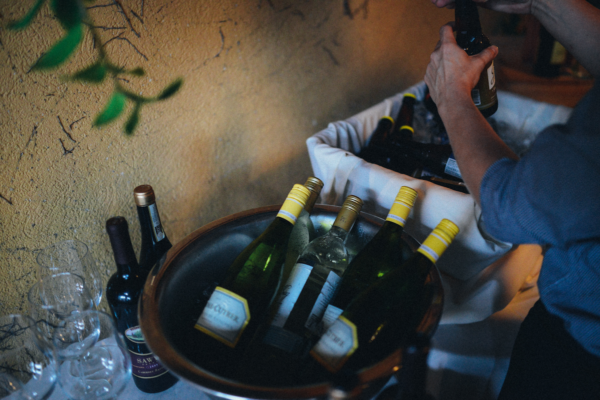 "Wine is bottled poetry."
(Robert Louis Stevenson)
In 2010, I had a cholesterol scare, which helped me realize that I can't exercise my way out of a bad diet. A few years later, inspired by the book Wheat Belly, by William Davis, MD, my wife and I made the decision to eliminate wheat and other grains from our diet. Shortly after that, reading another compelling book–Grain Brain by Dr. David Perlmutter–I permanently solidified my commitment to eating a high fat, low carb, and real food diet. Since then, I have maintained a clean diet, avoiding processed foods of any kind and eliminating sugar almost entirely. I wrote about my nutritional philosophy in this post: Premium Gasoline and Junk Food.
Nearly three years later, I'm having another conversation about what I consume, this time with a man known as "the healthiest wino on the planet." His name is Todd White, and I met him at an evening event during a Paleo f(x) conference, where his company was serving sugar-free, natural wines. As we chatted, he claimed Dry Farm Wines do not cause headaches or hangovers. He further explained why he started the company: because 99%+ of wine consumed in the U.S. is a highly processed factory product, loaded with additives and unnatural things. Just like most processed food, it's toxic.
WHAT?! NOT MY WINE!!!
That's what I thought as I spoke to him.
I love drinking wine. I drink it nearly every night. And, a little confession here, I drink the cheap stuff too. (You know, the five-liter box that contains six and two-thirds bottles for twenty bucks.) When I confessed this to Todd, he told me I might be eating clean all day long, but that I'm pouring horrible things into my body every night. I was shocked to learn from him that the Food and Drug Administration (FDA) approve seventy-six chemical additives for use in wine making, including ammonia.[1] Can you believe it?! 76 chemicals!
A few weeks later, I happened upon this article, All About Wine, Part 1: The Evolution of Winemaking, written by Chris Kresser, M.S., L.Ac,[2] which confirmed my worst fears. It seemed everything Todd had told me about wine being a commercially processed food produced by Big Business was true. (Three companies — E&J Gallo, The Wine Group, and Constellation Brands — account for more than half of wine sales in the U.S)[3] Just look at all the nasty stuff the article lists as additives and contaminants in the wine we drink:
Oak chips and sawdust
Fining agents
Mega purple
Sulfur dioxide
Histamines
Commercial yeasts
Sugar
Pesticides/herbicides/fungicides
Arsenic
Mycotoxins
Chris' article describes each of these nasties in detail, but without even going into it here, I can tell you: I don't want anything on that list going into my body. Especially not every night.
Todd and his company have created a healthier way to drink wine. They promise their wines are pure, deliciously clean, and:
Sugar-Free (< 1g/L)
Mycotoxin/Mold-Free
No Additives
Low Sulfites (< 75ppm)
Low Alcohol (< 12.5%)
Organic or Biodynamic
Wild Native Yeast
Gluten-free
Lab-Tested
I prefer their list, a lot!
So, I'm embarking on another Happy Living experiment. I'm switching to the clean, healthy natural wines from Dry Farm Wines. Thankfully, they make it super easy to do so. I just joined their Friends of the Farm Wine & Social Club, told them the kinds of wine I prefer, and gave them a monthly budget.
My membership works like this: they travel the world curating the finest organic & natural wines, and once every month, they ship my favorites right to my door. From now on, all I have to do is enjoy delicious and clean wine to complement my high fat, low carb, and real food diet.
My first shipment is arriving any day now. I'll report back to you after a month or so and let you know how I'm feeling.
Take One More Click to claim your penny (one cent) bottle of Dry Farm Wine.
[1] Not all wines are created equal
[2] https://chriskresser.com/about/
[3] Big Wine: 5 companies, 60 percent of sales, 200 brands
Image via Unsplash | This post may contain affiliate links, which means if you click and then purchase we will receive a small commission (at no additional cost to you). Thank you for reading & supporting Happy Living!
Comments
comments