Finding Your Black Belt explores how the everyday person can use principles learned through martial arts to create an inspirational life. It talks about the amazing human experience the author has had through the lens of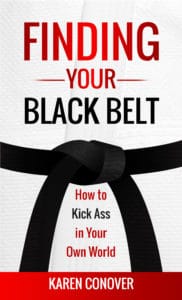 earning a black belt and then supporting others on that journey. Through sharing inspiring stories of some of her students, in their own words, readers will learn about the challenging journey to a martial arts black belt and about how the principles studied along the way—such as self-discipline, perseverance and respect—play a part in motivating people of all ages and backgrounds to achieving black belt excellence, both in martial arts and in their lives.
From the Author, Karen Conover:
I believe we all have the choice and the responsibility to live our best lives and to "kick ass" in our worlds.  Each of us is the only one responsible for ourselves in daily life; no one can stand up there and earn your black belt for you, just as no one else can live life for you. While "kicking ass" is going to mean something different for everybody, for me it means doing everything I can to be my best self – a person that is happy, motivated, kind, loving, and fulfilled.  If these are your goals too, I hope you'll consider reading my book and finding inspiration there for your life's journey. I hope my book helps you in "Finding Your Black Belt," whatever that means for you in your own life.